KOLKATA: The first lot of displaced Bowbazar residents won't be shifting into their new homes until 2027. That's the ground reality even four years after the East-West Metro tunnelling fiasco in which 23 houses collapsed and more than 700 people were evacuated.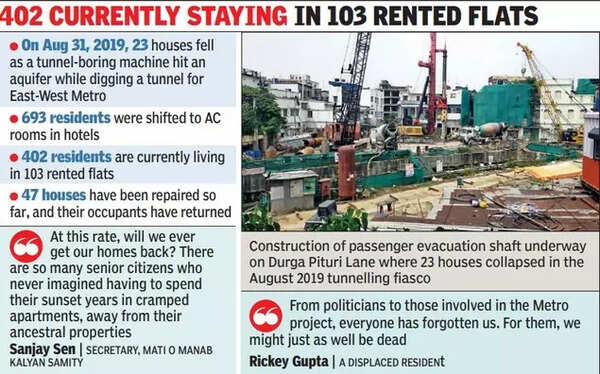 There were two more subsidence-related accidents in the area in May and October last year and some more buildings were damaged or razed for safety. Currently, 402 affected residents are living in 103 flats rented by contractors ITD ITD-Cementation.
Officials of Kolkata Metro Rail Corporation (KMRC), which is implementing the Rs 10,000 crore East-West Metro corridor, said on Monday that the first phase of the Bowbazar reconstruction project that was due to start in February has been deferred by at least 10 months.
Consequently, the new houses won't be handed over in December 2024, as announced by KMRC last year.
"We can't start rebuilding the houses until the underground passenger evacuation shaft at Bowbazar's Durga Pituri Lane is completed. That should be around December this year," a KMRC official said. Last October, KMRC had invited bids for construction of 23 houses in the first phase. The bid document said the developer would have to complete the first phase in two years. But after two more subsidence-related incidents last year, KMRC decided to abort the plan of building cross passages in the cave-in zone. Instead, a passenger evacuation shaft is coming up in the open area where the 23 buildings once stood. This is a top-down construction with lower risk of subsidence.
"At this rate, will we ever get our homes back? My heart bleeds for the hapless senior citizens who never imagined going through the trauma of spending their sunset years in cramped apartments, away from their ancestral properties," said Sanjay Sen, secretary, Mati O Manab Kalyan Samity, the association of displaced Bowbazar residents.
"From the beginning, the authorities have been making promises and forgetting them. There is no transparency. There is no one to tell us about the delay and the reasons behind it. From politicians to those involved in the Metro project, everyone has forgotten us. For them, we might just as well be dead," said Rickey Gupta, another affected resident.
KMRC officials denied the allegation. "A team led by Soumen Sengupta, ITD's DGM, administration, has been regularly in touch with the residents, attending to their needs. It isn't easy shifting the evacuees to hotels and repairing the buildings so they can go back," said an official.
Related Posts