From personalised book recommendations to custom engraved serveware, these Sydney restaurants are stepping it up for the single diner.

The experience of eating alone at three-hatted Barangaroo restaurant Oncore by Clare Smyth is so exceptional that one young man has returned more than 87 times over the past 18 months. No small feat, considering the restaurant's set menus are priced from $340 (not including drinks).
Restaurant manager Michael Stoddart takes particular care with solo diners, from curating a selection of books for their table to having their names embroidered on napkins after their tenth visit.
"I've always found solo diners to be the most intriguing guests," says Stoddart, who received the award for service excellence in The Sydney Morning Herald Good Food Guide 2023.
"They could be dining out with family or friends but instead, they choose to spend time with us. There's something very special about it."
Oncore is one of a handful of Sydney restaurants making a concerted effort to cater to the increasing number of solo diners. Restaurant booking services such as ResDiary report single reservations increased steadily over the course of 2022.
Oncore's most frequent visitor, a student in his early 20s who preferred not to be named, has become a welcome weekly fixture in the dining room. Several visits after the personalised napkin, staff excitedly presented him with a steak knife engraved with his name. Now, after showing an increased interest in Oncore's $190 wine pairing, the restaurant places each bottle on a pewter coaster with the man's name on it.
"He started off shy, but now he's a friend," Stoddart says.
"He came to our Christmas family breakfast. We eat with him outside of work. We get excited to show him new wines."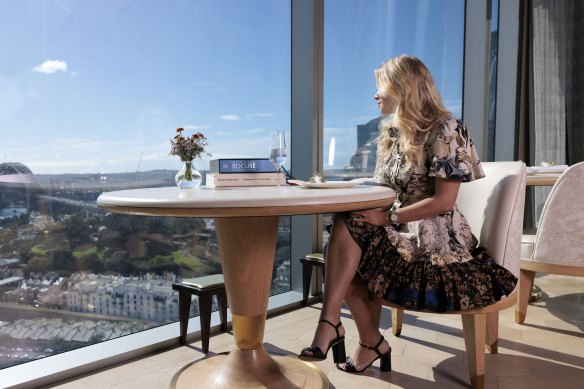 Stoddart says he wants solo diners to feel comfortable enough to put down their phones and fully engage in the Oncore experience. He remembers when he was 20 years old, new to the industry, and too shy to book a table-for-one.
"It can be quite nerve-wracking," he says.
"So I put something on the table they can touch and interact with. Once we build rapport and I know what they like, I'll put down books they're more interested in … or a humorous ornament that might make them laugh and lighten the mood.
"When you visit a restaurant alone you really get to feel the experience. There are no distractions, just raw hospitality, and there's nothing better than that."
Two-hatted Coogee restaurant Mimi's aims to spoil their solo diners, giving them a private tour and tasting of the wine cellar, a choice of the two best seats in the house (beachside or kitchen-side) and taking them to "Mimi's table" – a table reserved for special occasions, either before or after their meal for a bespoke cocktail or dessert (free of charge).
The kitchen also accommodates requests for smaller portions, allowing solo diners to try a greater variety of dishes.
Head chef Jeffrey de Rome says he wants to recreate the sense of warmth he experienced when eating alone at fine dining restaurants in London.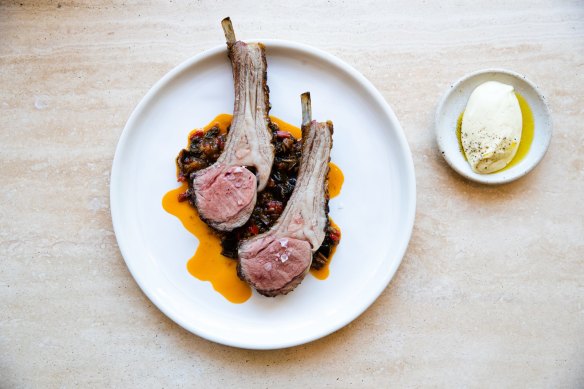 "I didn't have anyone to go to restaurants with, so I'd just go alone," he explains.
"After a while, I started to enjoy it because you can really engage with the front-of-house team and the chefs. They give you a lot more time than they would if you came with a group."
More diners are catching on. Oncore welcomed five solo diners to their 68-seat dining room over the past week, more than double the usual number. At hatted Restaurant Hubert, solo diners account for around a quarter of all tickets booked to their 'Front Row Feast', where guests are seated on communal tables and magnums of wine are passed hand-to-hand. And at Surry Hills seafood restaurant The Rover, there's at least one solo diner at each service (notable, says owner James Bradley, given the room's 35-person capacity).
Like many restaurants, The Rover typically seats solo diners at the bar. But Bradley goes the extra mile by providing reading material, lively conversation with staff, and (often, but not always) an extra drink or dessert on the house.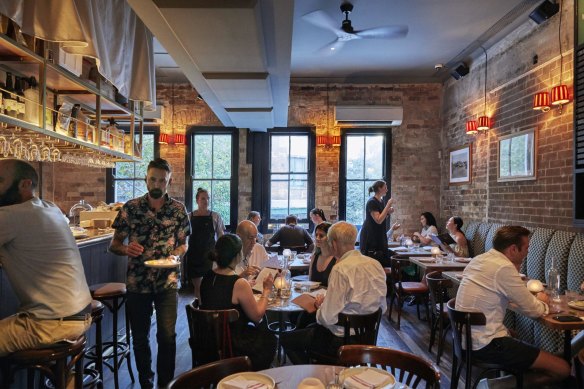 "There's no hiding any mistakes when it comes to solo diners, so it's really important you provide a high level of service," Bradley says.
"But solo diners are great customers because, if you get it right (and many don't), they will come back frequently, and they will tell their friends."
Top tips for dining alone
"Put your phone down and embrace the experience. I highly encourage trying eating alone, it's empowering."
Michael Stoddart, Oncore by Clare Smyth
"Enjoy taking control of the decision-making process. Be direct with staff if you need anything and if you don't feel like chatting, just say 'Thanks, I'll let you know if I need anything further'. You don't need to pretend."
James Bradley, The Rover
"It's worth speaking to the floor team to figure out whether they can downsize dishes to suit a single diner. We're happy to do half portions, but you wouldn't know that by looking at our website. Most kitchens have little tricks up their sleeves to make solo dining more accessible."
Jeffrey de Rome, Mimi's
Special solo dining experiences in Sydney
Mimi's, Coogee
For exclusive wine tastings, cellar door tours and a bespoke pre- or post-dinner treat.
Coogee Pavillion, 130a Beach Street, Coogee; merivale.com/venues/mimis
Oncore by Clare Smyth, Barangaroo
For the best seat in the house and thoughtful touches, such as personalised napkins for regulars.
Crown Sydney, Level 26/1 Barangaroo Avenue, Barangaroo; crownsydney.com.au
The Rover, Surry Hills
For reading material, backroom banter and the occasional free drink.
75 Campbell Street, Surry Hills; therover.com.au
Jonah's Restaurant
For captivating views, a complimentary glass of wine upon arrival and reading material.
69 Bynya Road, Palm Beach; jonahs.com.au
Restaurant reviews, news and the hottest openings served to your inbox.
Sign up
Related Posts