There was also bluestone edging, a bluestone-lined well, cracked concrete and weathered, mossy bricks, all of which were kept to imbue the garden with what Warner describes as a sense of "an evolving and ongoing history". An existing willow tree, two cherry plums and a couple of patches of vinca were also preserved to evoke times past.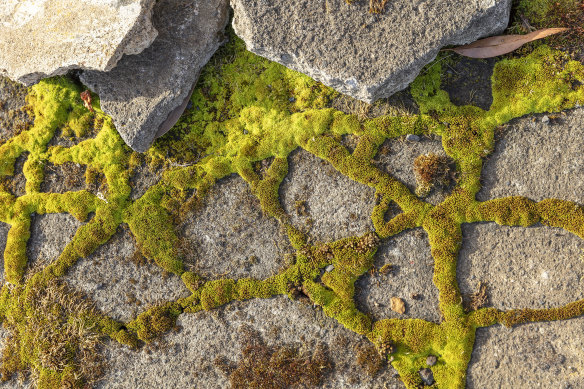 But these old elements were paired with unashamedly new elements that feel pared back and subtle. The latest incursions play up the textures and character of what was there before.
The old concrete and brick paving now sits alongside chunky gravel, the retained trees and shrubs are now surrounded by relaxed feeling grasses, wattles and wildflowers, and the entire site is bound by contemporary square picket fencing.
A stockpile of bluestone found on site has been used to construct a formal arrangement of raised vegetable beds, positioned in the same spot as photographs suggest a vegetable garden had existed before. But the swale that has been established – to improve drainage – around the block's perimeter is an entirely new development. It has been filled with Indigenous species that can cope with the intermittently wet and dry conditions, plants that would have been present before European settlement, and that possibly remained in the Kelly's time too.
Loading
The whole effect feels resilient in the face of our changing climate and, while there are strong links to the past, the garden doesn't feel out of place in what is now an urban growth corridor.
In Kelly's day, this area was harsh farming country, but new houses and roads are steadily moving closer
…
Read the rest