Table at Third & Fairfax is a weekly dining column in 2023 where Food and Drink editor Patricia Kelly Yeo will eat her way through the Original Farmers Market. Each column will drop on Thursday for a week-by-week recap of her journey through the classic L.A. tourist attraction. Last week, Kelly tried Sushi A Go Go and Local Ice.
Strangely enough, for a job driven by the pleasure principle, full-time restaurant writing demands you become inured to the first-order joys of eating out. A noteworthy, memorable event for most people becomes a near-everyday occurrence; the hedonic treadmill chugs on. The novelty, in my case, wore off quickly enough to kill off any implicit goodwill I once had towards burgers, pizza and brunch—all things people seem to love, and I previously just liked, before traveling hundreds of miles across L.A. to sample dozens of iterations and become semi-fluent in the nuances of each item or meal. Objectivity in media might be a sham, but I'll be damned before I fail to lay in some serious gustatory groundwork. 
On the other hand, my love for fried chicken knows few bounds. As long as it remains, in the wise words of Cookie Monster, a "sometime food" in my diet, my enthusiasm for the seemingly infinite variations of deep-fried chicken isn't likely to wane. An upcoming update to our guide to fried chicken sandwiches will put my love to the test. In preparation for a snail-paced quest to check out L.A.'s latest, greatest chicken sandos, I spend this week's Original Farmers Market visit checking out Neal Fraser's Fritzi Coop (est. 2016), which currently enjoys the #8 spot on a guide last edited a few months before I started working at Time Out.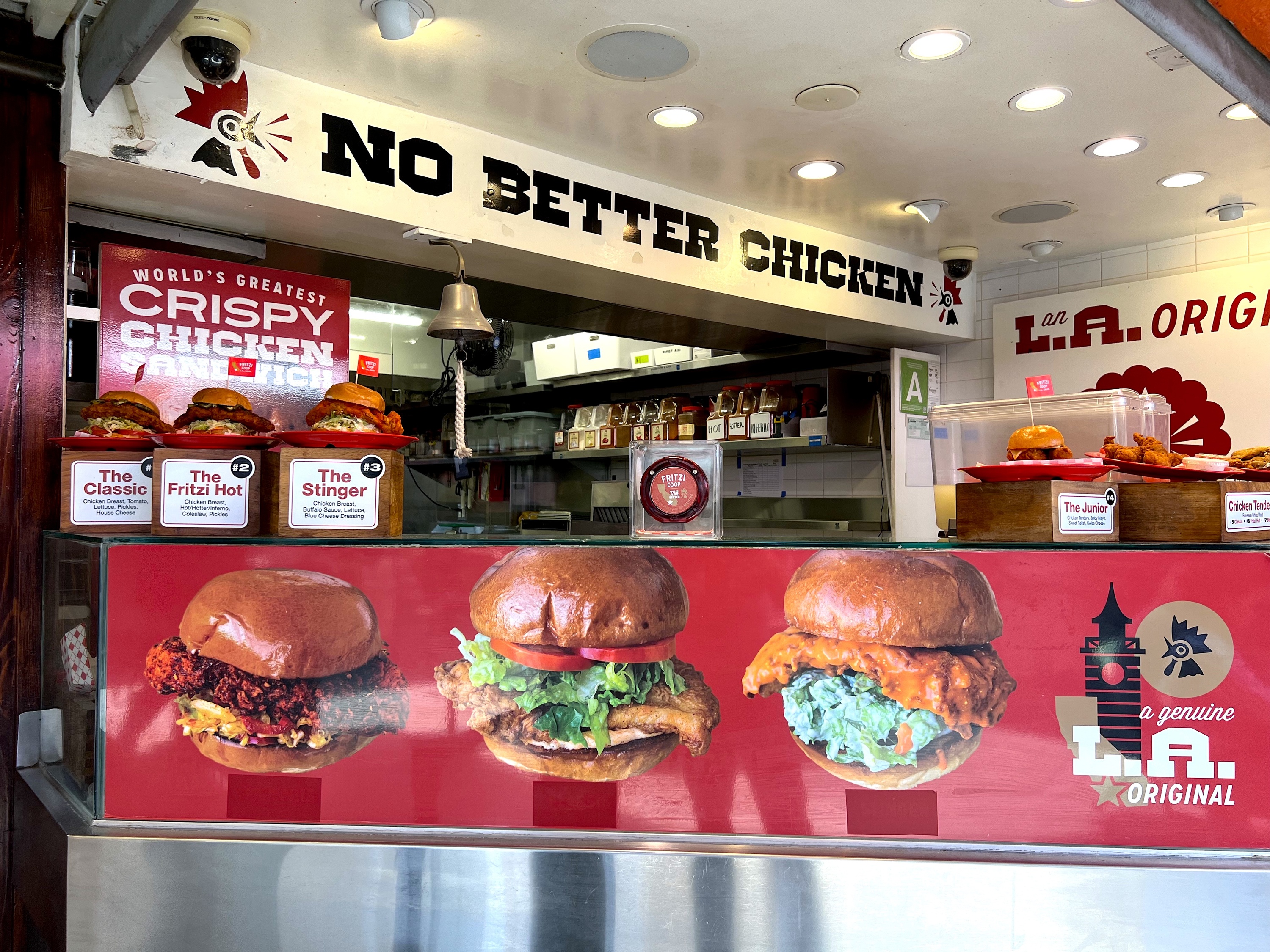 Based on my previous, pre-column experience with the stall, Fritzi Coop seems to suffer from some issues in quality control, which is at odds with the general excellence on display at Redbird, Fraser's other, far more upscale Downtown restaurant. On a spontaneous visit last year, I spent around $12 for two gluey, extremely sad chicken tenders that made me long for Raising Cane's or even Carl's Jr. Mixed Yelp reviews that echo my experience, and the lack of line essentially every time I've passed by the stall this year, make me eager to get this Table at Third & Fairfax visit over with.
Walking up to Fritzi Coop on Wednesday, I order the Stinger, a.k.a. Fritzi Coop's buffalo chicken sandwich. Since I opt for the combo (I choose the curly fries, ranch and a Topo Chico as my side, sauce and drink), my total without tip comes out to $25.13. Relative to fast food, that price seems outrageous, but I try my best to withhold judgment until after my meal. Eight minutes later, my order buzzer goes off. I head back to the counter, where a bright red plastic plate full of deep-fried goodness awaits.
Dripping in bright red buffalo sauce, the football-shaped chicken cutlet extends well over the sides of the brioche bun. I dip my first bite into the ranch sauce, and it's not until my second or third bite of the Stinger that I encounter the soft, ultra-pliable bread and lettuce tossed in a fairly mild blue cheese dressing. Unlike the tenders I ate last year, the chicken today is crunchy, even with the addition of buffalo sauce. Halfway through, I discard half the bun to finish the chicken itself and pause to dip a few curly fries in ranch. The fries are slightly limp, but they're well-seasoned enough to overcome the lack of crispiness.  
With a sauce heavier on vinegar than actual spice, the Stinger at Fritzi Coop doesn't actually provide much of a sting. While the sandwich wouldn't make my list of citywide best, it's a straightforward generously portioned buffalo chicken sandwich, and a solid follow-up from the disappointing tenders I tried last year. For the sake of completion, I want to try other items from Fritzi Coop in the future, but the fried chicken sandwiches here already seem to be a better move than the tenders.
Meals from Table at Third & Fairfax fall into three categories: Skip It, Worth Trying and Must Have. 
Vendor: Fritzi Coop
Order: The Stinger combo meal with curly fries
Verdict: Worth Trying. Newer spots like Go Go Bird and Daybird are much better for spicy fried chicken sandwiches, but if you're at the Farmers Market, this'll do. 
Related Posts