Ludhiana: The municipal corporation's efforts to curb stray cattle menace in the city seem to be going up in smoke. Of over 1,376
stray cattle
traced in the city during the two-day survey conducted recently, only 166 could be lifted and transported in the past three weeks.
At the worst, as MC has no cow shed of its own, they are transporting such cows to Baba Jameet Singh Charitable Trust in Lopon village where they are supposed to send 500 stray cattle. However, the MC officials said that they had an agreement with a cowshed management on Hambran Road where they will send at least 500 cattle. Also, they have identified a chunk of land on Tajpur Road where cattle can be kept, they said, adding that some NGOs assured them to take care of the cattle, but this will take time as required permissions are to be taken.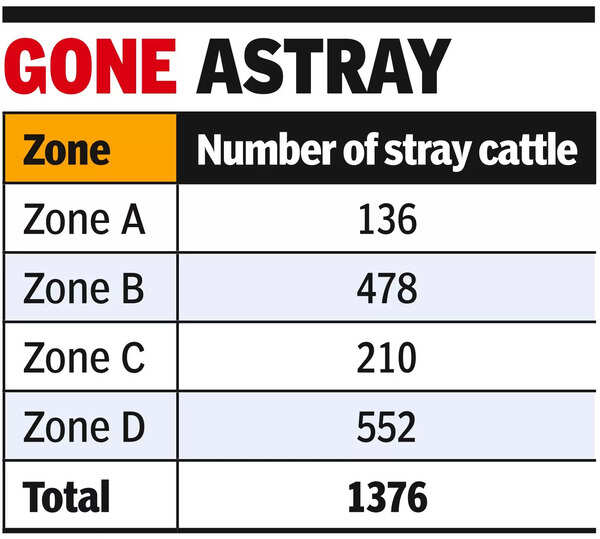 However, the source of trouble is the MC's indifference to make cattle registration compulsory. If the officials will not fix the source from where cattle are left abandoned on roads, the issue cannot be resolved. Shifting cattle from roadside to cows sheds could be an endless process, which would not bring the desired relief.
In September 2019, it was proposed to install 20,000 microchips in the cattle at dairy units, along with initiating the registration process. However, the proposal was rejected by the Finance and Contracts Committee (F&CC) members when it was presented before them in November 2019.
The officials claimed that as the cost of one microchip ranged from Rs 250 to Rs 400, dairy farmers with many cattle were not ready to bear this cost. As the civic body cannot pay for the microchips, the project was dropped, they added.
Senior veterinary officer Dr Harbans Singh Dhalla said: "We are trying our level best to tackle the stray cattle menace. As now, lifting of stray cattle has also started, we will clear the roads in the next few days." Cattle registration is the only way out to resolve the problem but as it is a tedious task, more staff will be required, he said, adding that "We are thinking of registering cows first as dairy farmers do not leave buffaloes abandoned."
A resident of Civil City, Heena Sharma, said: "The cattle come in groups as if somebody leaves them abandoned on roads for them to search food." She said the authorities should look into the matter as it is creating problems for the residents.
Another resident from Shivpuri Manav Bhatia said: "The situation is getting worse as even at national highway, the stray cattle can be seen roaming around, which can cause accidents." He demanded that the authorities should come up with a permanent solution to this issue.
Bylaws fixed in 2019 not
yet implemented
The Registration, Proper Control of Stray Animals and Compensation to the Victim of Animal Attack Bylaws 2017 were adopted by the MC General house in September 2019 and registration was made compulsory. The animals were categorised into small and big animals. For small animals, such as dogs, cats, sheep and goats, Rs 400 per animal annual fee was fixed, whereas for big ones, such as cows, buffaloes, horse and elephant, the fee was fixed at Rs 350 per animal. The main aim of these bylaws was to arrange funds for the victims of stray dog bites or stray cattle accidents.
Related Posts