House patio (Creative commons, representation file)
It needs a lot of small things to come together in making your home a perfect place. From choosing the right colour tone to carrying a coherent theme, from achieving the right focal point to even hanging the artwork symmetrically can make a room look massively different. 
However, some issues crop up time while crafting spaces. So, knowing what not to do can be just as helpful as knowing all the tricks. 
To help you feel the difference between a room that you look forward to be in and one that just doesn't feel right, we are giving you a heads-up on these six most common interior design mistakes you can avoid while setting up your dream home. If you have already made these mistakes, find out how to fix them. 
1. Choosing the wrong-sized rug
The area of the rug is one of the most important things while decorating the room which is often ignored by people. When purchasing a rug for your room, size matters! The right rug can pull your room together and define the space or it can make the place fall apart. 
Pro tip: At least the front feet of all furniture should sit on the living room rug and for the dining room even after pulling out the chair, all four legs should be on the rug. 
Right-size rug (Creative commons, File)
2. Sticking furniture to the wall
Furniture lined up around the walls gives the feeling of a waiting lounge. Setting furniture apart leaves empty spaces. Furniture should be set keeping in mind the conversational meeting with friends with enough room to walk around freely. 
Pro tip: For the right spacing in the living room, keep the sofa facing your focal point of the room.
No more than 12 feet distance between the chairs. 

Up to 2.5 feet of empty space to move around

1-1.5 feet distance between the coffee table and sofa to keep drinks within reach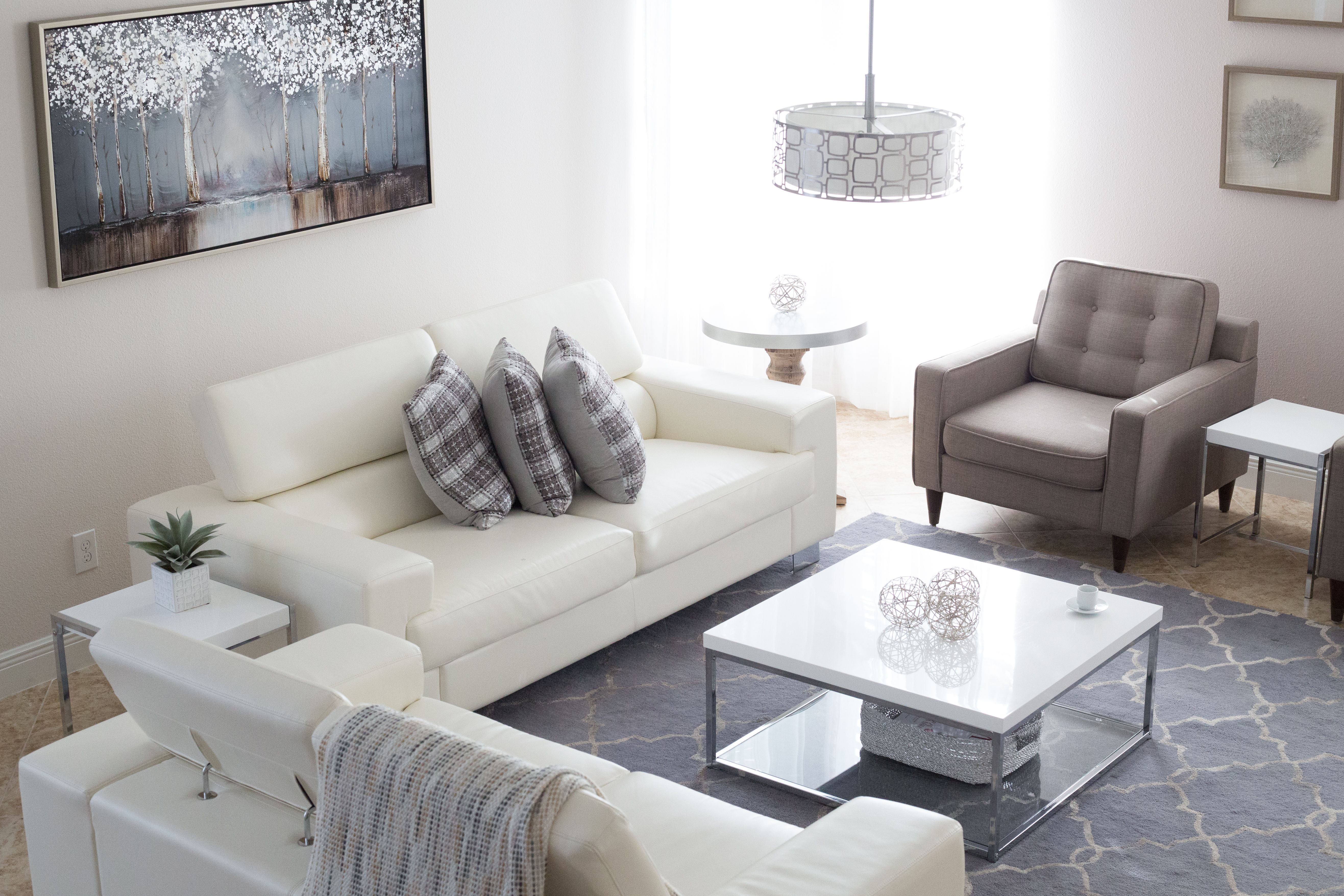 3. Choosing wall paint before furniture
The most common mistake in every household and a big setback while setting up a house is choosing a wall paint before deciding on the furniture. With endless colour options in the palette, it is wise to choose the decor first rather than later finding furniture that corresponds to the wall. Don't rush in picking up the paint shade. 
Pro tip: Start by finalising the bigger and more impactful pieces like sofa, chairs and rug, and move your way down to additional furniture and decor. After placing the furniture, move on to choose the colour, and be sure to test paint options on walls rather than regretting it after getting the whole thing done. 
Uncoordinated setting (Creative commons, File)
4. Not having enough contrasts
A home gets its uniqueness from your personality. Choose individual pieces rather than matching everything. Usage of single-colour decor can make your space look flat; instead, use contrasting tones to break up space. 
Pro tip- Things like artwork, cushions, side pieces, and rugs can make your space pop out in its individual characteristic.
Contrasting elements in the room (Creative commons, File)
5. Not going beyond the white ceiling 
Another common notion is to keep the ceiling simple and minimal with white colour. Unless there is a gaudy chandelier, white makes the place look absolutely plain. 
Pro tip: Go on with warm colours like beige, nudes and creamy shades and the right set of lighting will be the icing on the cake.
Warm tone bedroom (Creative commons, File)
6. Trying too many different styles
With an abundance of options, it can be confusing to decide on a few, hence, people tend to experiment with their space resulting in a cluttered space. Stay true to your theme.
Pro tip: Use 70% of the space in one style and then add 30% of a different style with additional decor pieces.
Mixing too many styles (Creative commons, File)
Related Posts