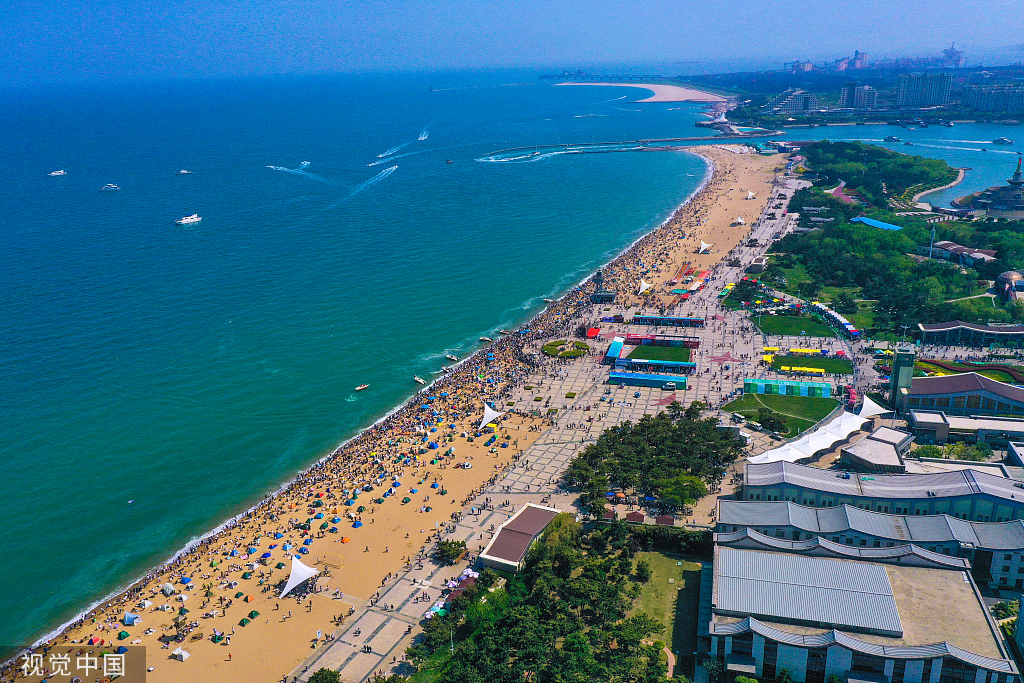 BEIJING — China"s tourism and consumption have been firing on all cylinders during the just-ended May Day holiday, showing the country's extraordinary economic resilience.
From the latest tourist hotspot Zibo, a low-profile industrial city in east China's Shandong Province now famous for its iconic barbecues, to a camel-riding traffic jam at a desert spot in the northwestern Chinese city of Dunhuang, resorts across the country were swamped with millions of Chinese tourists during the five-day holiday.
China's tourism and consumer activities "rose sharply on the first day of the five-day Labour Day holiday" as residents "rushed to travel and spend" after the country optimized its COVID-19 response measures, Bloomberg reported.
Vigorous momentum 
Eye-catching data related to the holiday has reflected the strong vitality and resilience of the world's second-largest economy.
The Chinese people made 274 million domestic trips during the five-day break that began on April 29, soaring 70.83 percent from the same holiday a year earlier, and 19.09 percent more than the holiday in 2019 before the COVID-19 outbreak, the Ministry of Culture and Tourism said.
Tourism revenue reached about 21.44 billion US dollars, surging 128.9 percent from last year, according to the ministry.
The booming tourism has effectively driven growth in transportation and catering, as well as accommodation and retail trade.
From April 27 to May 4, 133 million railway passenger trips were made nationwide, 27.94 million more than during the May Day holiday travel rush in 2019, data from China State Railway Group Co Ltd showed.
The number of daily passenger trips served by China's railways reached 19.66 million on April 29, a new record high for single-day passenger traffic.
Sales of key retail and catering enterprises increased 18.9 percent from the May Day holiday in 2022, according to the Ministry of Commerce.
CBS News reported that "China's tourism industry has not missed the chance to cash in," which serves as "a boost" for the country's economic recovery.
Since the beginning of this year, China's consumption has shown an upward momentum.
China's retail sales of consumer goods rose 5.8 percent year on year to 11.49 trillion yuan ($1.67 trillion) in the first quarter, according to the National Bureau of Statistics.
"Consumption growth has picked up significantly in the first quarter as COVID-triggered restrictions on consumption gradually waned and pro-consumption policies paid off," said NBS spokesperson Fu Linghui.
He added that consumption is playing an increasingly prominent role in driving economic development, contributing to 66.6 percent of China's growth in the first quarter, which is a remarkable improvement from last year.
"Consumption has led China's economic growth so far this year," U.S. news website Axios reported, adding that "record-breaking travel and consumption during the May Day holiday could offer a needed economic boost."
Boost global confidence
The astonishing performance of the Chinese economy during the May Day holiday has boosted confidence in international tourism and supercharged the global economy.
During the holiday, the outbound travel market picked up. Some popular overseas destinations like Thailand and Singapore saw an influx of Chinese tourists.
Chinese visitors came to Singapore in flocks, which increased the business of some vendors by 20 to 30 percent and made it hard to buy a ticket at several tourist spots, said the city-state's Chinese-language newspaper Lianhe Zaobao.
Data from Alibaba's travel branch Fliggy showed that orders for outbound trips during the May Day holiday increased by 200 percent compared to this year's Spring Festival.
Another leading travel platform Trip.com Group also reported that during the five-day holiday, outbound travel orders increased nearly 700 percent from the same period of last year, with the number of outbound air tickets and hotel orders surging by nearly 900 percent and 450 percent, respectively.
China's economic vigor has grabbed the headlines, and many institutions are upbeat about the country's growth prospects and its positive contribution to the global recovery.
"A rebound in China is essential to support global economic growth this year, as the United States and Europe lose steam amid rising interest rates, stubborn inflation and anxiety over pockets of instability in the banking system," The Wall Street Journal reported.
Growth in Asia and the Pacific is projected to increase this year to 4.6 percent, up from 3.8 percent in 2022, the International Monetary Fund said on Wednesday.
"The biggest driver of Asia's upward growth revision this year is China, while other emerging economies in the region are on track to enjoy solid growth, though in some cases at slightly lower rates than seen last year," the IMF said in a press briefing on its latest regional economic outlook.
World Bank Group President David Malpass announced earlier in April that the lender has raised its global growth forecast for 2023 to 2 percent from 1.7 percent due to China's recovery.
Related Posts