Two people are reported to have died in severe flooding that has engulfed parts of Beijing, as Typhoon Doksuri passed through China's capital.
People's Daily reported on Monday that two people were found unresponsive in a river in Mentougou, a district in west Beijing that has suffered some of the worst flooding. According to state broadcaster CCTV, more than 31,000 people have evacuated their homes in the city.
Heavy rain continued to fall in Beijing as well as in Hebei, Tianjin and eastern Shanxi as Doksuri dissipated over northern China, the China Meteorological Administration said.
Doksuri is one of the strongest storms to hit China in years and caused widespread flooding over the weekend in the southern province of Fujian, driving hundreds of thousands of people from their homes.
Between 8pm on Saturday and 1pm on Monday, average rainfall in Beijing was 176.9mm, with the maximum rainfall in parts of Mentougou hitting 580.9mm, according to the city's observatory.
Beijing Traffic Radio reported on Monday that the 65 mile-long (105km) Fengsha railway line, which connects west Beijing's Fengtai district with Shacheng in Hebei, had suffered "serious water damage", disrupting journeys. Nearly 2,000 passengers and railway crew were evacuated from two trains.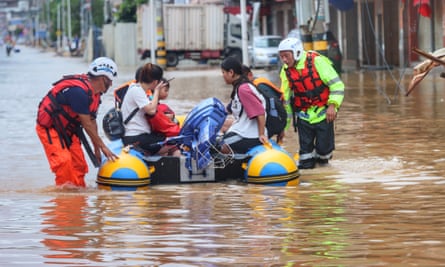 Work was halted on more than 4,000 construction sites, almost 20,000 buildings were inspected for damage, and scenic spots in the city were closed, media reported.
While Doksuri continues to taper off, forecasters warned that Typhoon Khanun was approaching and was set to strike China's densely populated coast this week. Authorities said Khanun could inflict further damage to corn and other crops that had already been hit by Doksuri.
Doksuri made landfall on Friday, downing power lines and uprooting trees, affecting about 880,000 people in coastal Fujian and forcing more than 354,400 to evacuate and resettle, and causing more than 478m yuan (£52m) in direct economic losses, state media reported.
In Doksuri's wake, social media posts showed emergency workers clearing fallen trees and landslides, and people wading in thigh-high flood waters.
Before hitting China, the typhoon roared through Taiwan and the northern Philippines, where rain and strong winds led to the capsizing of a ferry that left at least 25 people dead.
Related Posts