One Central Park was once crowned the world's best tall building. Its environmental credentials and vertical greenery that brightened Sydney's Broadway strip were supposed to make it a green paradise.
But a decade after it was completed, One Central Park has had to make urgent safety repairs after a planter box fell onto the footpath last year, and flammable cladding was discovered on its walls.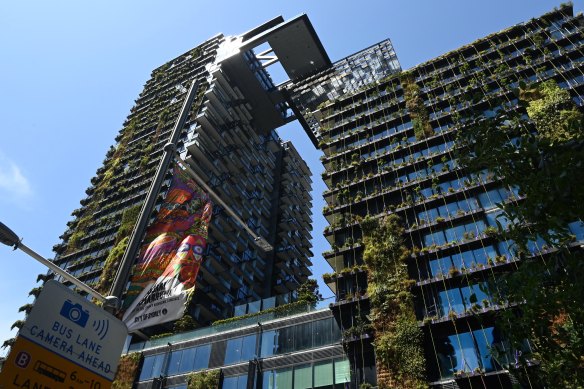 The local council has demanded that building management does more to protect pedestrians walking underneath, and the building owners are locked in a legal battle over safety orders as the Cladding Taskforce – set up after the 2017 Grenfell Tower tragedy in the UK – continues its inspection blitz.
While nobody was injured by the falling planter, structural engineers have recently begun to assess the safety of hundreds of others lining the walls. The planters have been strapped with rope in a bid to avoid further failures, and some 33 have been removed as engineers investigate bolts that the owners claim were defective.
The owners installed temporary barricades on the footpaths and car parking spots around the building to make pedestrians walk on the areas covered by a glass awning. But in September, a member of the public complained to the City of Sydney about the barricades blocking the footpath, and the council demanded the owners install overhead hoarding on the entire path.
The council said it was working with the owners to install an approved hoarding, so the barricades could be removed.
The building's owners have also spent the last six months fighting a legal case against the NSW Department of Planning, which issued an urgent fire safety order in January after combustible cladding was discovered on the site.
Category A cladding – the most flammable – was found on doors and other structures around the base of the building, and Category B cladding – flammable, but less so – on the planter boxes.
Related Posts