The project will be built to the specifications of the Fitwel certification program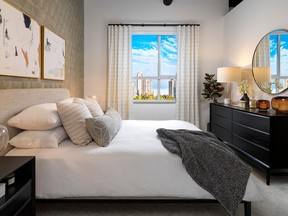 Reviews and recommendations are unbiased and products are independently selected. Postmedia may earn an affiliate commission from purchases made through links on this page.
Article content
If a home is meant to be a sanctuary, it makes sense that it could foster both physical and mental well-being. This idea of creating a sanctuary for the homeowner is the ethos behind Adera's west village project in Surrey Central. Pura, a two-building, six-storey development, will be built to the specifications of the Fitwel certification program that recognizes a commitment to residents' wellness inside and outside their homes.
Article content
"It's a sustainability designation with a heavy emphasis on health," says Eric Andreasen, Adera's vice president of marketing and sales, describing Fitwel. "It's a new thing that you see a lot in commercial office buildings. After the pandemic, everyone was concerned about health, and this is now one of the buzzwords that's going on out there." Andreasen notes that due to COVID, people were living in their homes more, but also, many had the option to work from home several days a week on a more permanent basis. This led to designing projects that factored in quality of life based on exercise, the ability to enjoy peace and tranquillity, to be able to access clean air and the outdoors — all of which translates into a range of common amenities for homeowners like basketball courts, community rooftop gardens and yoga and meditation spaces.
Article content
Inside the homes, the sense of sanctuary starts with the buildings' QuietHome program, a part of Adera's proprietary mass timber building system SmartWood, that supports calm, quiet spaces for multi-family projects. Pura's presentation centre features a QuietHome room to demonstrate the system's efficacy to homebuyers.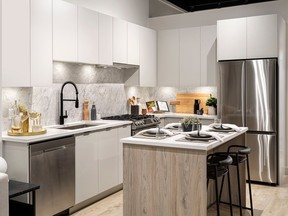 "Our homes compete directly with, if not perform better in terms of sound, and that's both impact and airborne, with concrete buildings built to code," Andreasen states.
For Pura's interior designer Hong Cartmel, extending the focus on wellness to the interiors of the homes meant ensuring that fixtures and finishes throughout the spaces were environmentally friendly.
"When it comes down to the carpet, the paint, everything is low VOC," explains Cartmel, founder and principal at More Design Inc. "They've got a better story: very durable materials. For sustainability, specifying durable materials that will last over time is very important."
Article content
That durability is reflected in materials like quartz countertops in kitchens and bathrooms, while sustainability is experienced but not necessarily seen in features like water-efficient plumbing fixtures and Energy Star appliances. Cartmel adds that the right lighting throughout the homes supports wellness in interior spaces.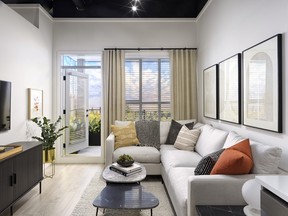 "First of all, the homes themselves have very large windows, and to me, that's such a great benefit to bring that natural light in," Cartmel observes. "The homes are well lit throughout. In the kitchens, we've got recessed lighting, under cabinet lighting. I think when your home is well lit on the inside, it's more calming and visually appealing so you can enjoy your space."
The colour palettes, Cartmel says, were curated to enhance a sense of calm in the homes while also evoking warmth to complement what she describes as more of a minimalist design.
Article content
"There are a lot of clean lines," Cartmel notes. "We've got flat panel cabinetry. Both the colour palettes are light, but they're both warm. One scheme has white kitchen cabinets, and it has a lighter wood tone bathroom cabinet for all the bathroom cabinets. The other scheme has light grey kitchen cabinets with warmer wood-tone grey bathroom cabinets."
The floors throughout the main living spaces are warm natural oak-hued laminate. Cartmel introduced visual interest through texture and movement in the kitchen backsplashes, the bathroom floor tile and shower and bath feature walls fashioned with a porcelain hexagon mosaic.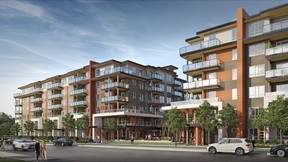 "With the palettes, my motivation was to keep the palettes light, as well to keep the spaces light with the natural light," Cartmel explains. "Keeping these palettes light creates more of that calming interior for tranquillity. It also creates more of a blank canvas so homeowners can incorporate their personality and style into the spaces."
Article content
For a touch of sophistication, Cartmel incorporated accents like the matte black faucets. Even as black can be visually striking in a room, it integrates with many schemes as it's considered a neutral hue, the designer notes.
Though Cartmel's brief was to create calming spaces, her vision for the interiors was for a timeless esthetic.
"For me, I always strive to create interiors that will stand the test of time," she says. "They won't look dated when you're looking 10 or 15 years down the road. We wanted these interiors to be a bit more sophisticated because we're closer to the Surrey Central downtown core, a very vibrant community."
Pura
Project Address: 13240 105 Avenue, Surrey, BC, V3T 1Z1
Project Scope: Pura is a collection of 248 one, two and two-bedroom and den homes within a two-building development in the west village of Surrey Central which is a quiet residential area with easy access to transit and retail amenities. The ethos of Pura is creating homes that feel like sanctuaries to foster the residents' wellness.
Article content
Developers: Adera Development Corporation (Adera)
Architects: RH Architects
Prices: One bedrooms starting in low $500,000s; two bedrooms starting at high $600,000s; and two bedrooms and den starting at mid $700,000s.
Sales centre: #102 – 13734 104th Avenue, Surrey, BC, V3T 1W5
Sales centre hours: 12- 5 p.m.
Sales phone: 604-681-4800
Website: livepura.ca
Occupancy date: First phase completion is estimated to be Summer 2024
Our Neighbourhoods: Commercial Drive area splits the difference between city life and family friendly suburb

Meet the interior designer who reimagined Pamela Anderson's property on Vancouver Island for HGTV series
Related Posts